Tennessee sends 4.5% of its white murderers to death row and 3.4% of its black murderers. The black post-conviction death sentence rate is thus about 3/4 what you would expect it to be if even with the white sentencing rate.
Defense attorneys for Lemaricus Davidson have signaled their intent to bring race into their legal battle to dismiss the death penalty as a possible sentence for their client.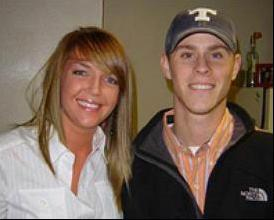 Victims Channon Christian and Christopher Newsom

Death Penalty?
Davidson is one of four defendants accused of carjacking, raping and killing Channon Christian and Chris Newsom in 2007.
All the defendants in the case are facing the death penalty. Attorneys for each of the defendants have previously filed motions regarding capital punishment.
Previously, defense attorneys have filed motions to have Judge Richard Baumgartner declare the death penalty unconstitutional.
Another recent motion filed by different legal teams in the case, is asking the judge to consider the expense of the death penalty which is through lethal injection in Tennessee.
However, a motion filed by David Eldridge and Doug Trant asks the judge to dismiss the death penalty because of racial disproportionality.
The motion states the percentage of white persons to black person in Tennessee is 80.4% to 16.9% and in the United States, 80% to 12.8% according to the U.S. Census Bureau 2008.
The motion includes supporting documentation to indicate that 34% of the people executed in the United States since 1976 (the modern era of the death penalty) have been black.
It also notes that 41.6% of the nation's death row population is black.
All the defendants are black and the victims were white.
Defense attorney Don Bosch is not connected to any of the four cases. Bosch says the "bare bones" motion just makes the court aware of the upcoming extensive legal argument on the issue.
He created the motion for one of his previous clients who is black. The victim was white.
Source:
Defense uses race to argue against the death penalty
wbir.com